Cloud-based solution created for restaurants


AAHI's game-changing technology facilitates easy online ordering, gathers customer feedback while it's hot and reduces operational costs.
Get Started
Seamless online ordering. Instantly turn your website into your own ordering platform.


Create a new revenue channel while giving customers the option to order food directly from your webpage. Either as take-out, a pre-order, or directly from the table. Simply add a button to your website and stop paying crazy fees to delivery companies.


Easy one-click menu uploading, live menu editing
Let your clients order for take-out, a pre-order, or at the table...
Start your own delivery service with your drivers!
Secure Mobile and Web Payment → ApplePay, GooglePay or credit cards
Manage ordering times → ensure your kitchen can handle the demand and customers don't have to wait
Manage your orders on the go - administrative back-office interface is available on mobile, tablet and desktop
Start gathering data about customers' purchase behavior.
Find out more
Try out a Demo
Your digital menu in the customer's pocket.


Nobody likes waiting. Quick ordering for your customer, no matter where they are or what they are doing. Increase your clients loyalty with direct communications via SMS or Push notification technology.
No app required
Own branding, own style, own colours
Accessible from QR code or special link
User-friendly control panel to manage your menu
Duplicate, localise and delete a menu with the wizard.
Environmentally friendly - ne need to invest to printing anytime you want to change a menu
1,5 meters solution - no physical contact needed between your customer and staff.
No set up fee, start to use your menu in a seconds!Managing your orders on the go - administrative back-office interface is available for mobile, tablet and desktop
Virtual waiter does things right. Get orders on time, up-sell more.


Social distancing is key. Put a QR code on the tables or flyers and let your customers easily order while staying safe. Our cutting-edge solution will up-sell more items and increase your revenue.


Have your beautiful digital menu always available, with no hygiene concerns
Sell from everywhere - from the table, from flyers and signs too.
Get your customers' attention and show them you care about their health
2-click ordering, either with or without registration
Allow customers to choose the most convenient payment method for them - Apple Pay, Google Pay, credit cards, or even cash.
Give customers e-receipts
Keep your customers satisfied by managing feedback instantly


Improve your services before the negative feedback gets to Facebook or Tripadvisor. Your manager will handle guests' complaints in real-time using our partner app. Loyal guests spend more on average than new ones. Use this tool to encourage your personnel to be more productive and reward those who get the most positive feedback.

Instant feedback gets to the right person in your restaurant. Communicate with customers in real-time.
AI-Powered chatbot to satisfy every customer needs
Implement a reward system for your employees and encourage them to work better.
Get notified about new orders or request them the way your prefer - SMS, Push notifications, emails, calls
Share your guests' feedback on your social media channels and create content using our beautiful templates.
Manage on the go - administrative back-office interface is available for mobile, tablet and desktop
The perfect take-away solution that makes your restaurant eco-friendly


Get your over-produced food management under control and protect our planet. Thanks to AAHI, hundreds of restaurants have received more clients, differentiated themselves from their competitors, and rapidly increased their profits as a result of our sustainable marketing approach.


Publish special offers - unsold dishes, less popular items or new menu items
Automatically publish the whole menu for cross selling
Get your business to a new level, making it more sustainable.
Attract new clients, stand out from your competitor, get free marketing
Learn more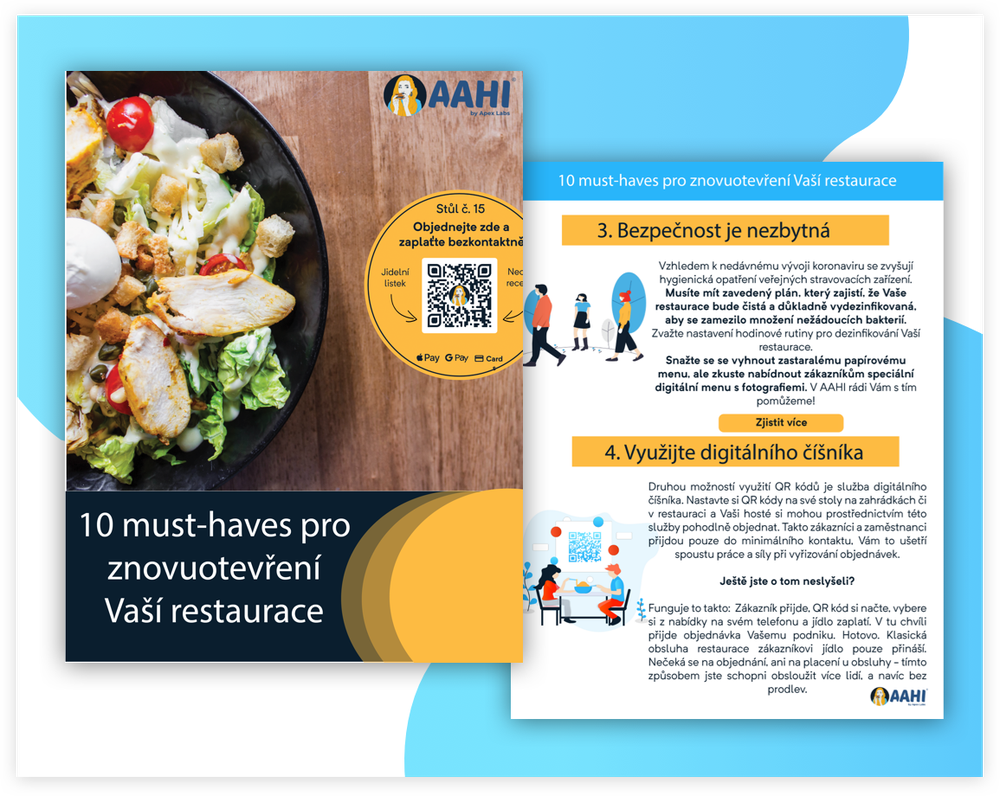 Download The Ultimate Checklist how to boost your restaurant sales during and after COVID-19 (Only in CZ)


Learn how to approach reopening your restaurant during and after COVID-19 with this 11-item checklist.



Get Your Free Checklist
Ready to get your restaurant on AAHI?